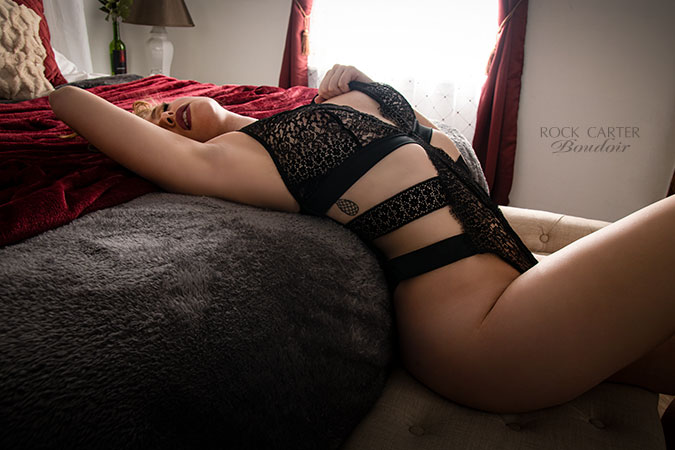 When you have something on your body that looks and feels amazing, your confidence kicks in and that confidence shows in your photos! There are countless ways to look sexy in boudoir photos. My main concern is that you feel comfortable, have a great time, and leave your session feeling empowered. How much or how little skin you show in your boudoir photos is always up to you. If you are feeling a bit overwhelmed by clothing options, here are some tips on how chose the right wardrobe for your boudoir session.
THE BASICS
Think about what colors look good on you and start building ideas from there. Solid colors are better than patterns. Black is always an excellent choice. Also, anything with a little texture will photograph well (think lace, mesh, beading or metal studs).
One important thing to remember about outfit selection is "the fit matters". Clothing for boudoir sessions should hug your curves nicely and offer proper support where needed. Choose pieces that are cut in a way that highlights your favorite physical features. Ensure that none of your garments are too small or restrictive and that they don't cut into your body, create unflattering bulges, or make it hard to move. Alternatively, you should also avoid outfits that are too large with excessive space and gatherings in the fabric.
If your tummy area concerns you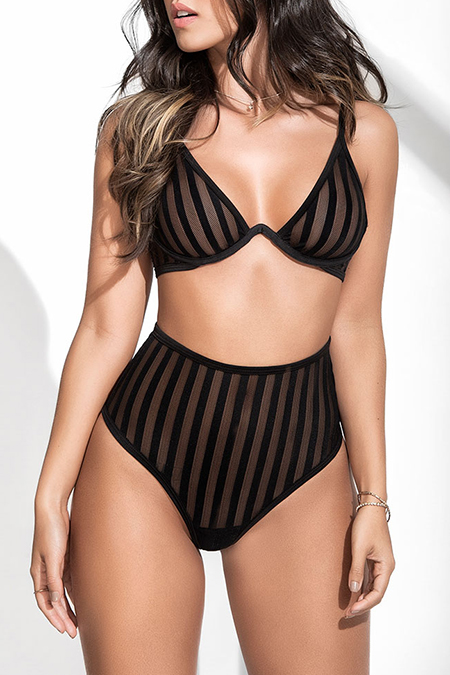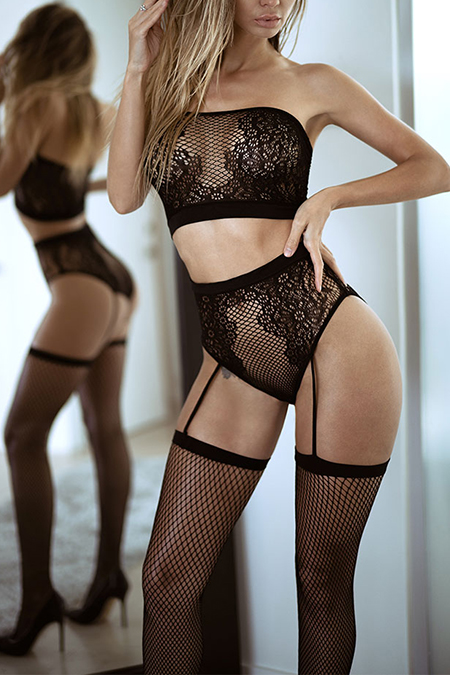 Consider items such as high waisted underwear, a corset belt (or corset garter), shapewear, and/or a bodysuit. These items can be paired with something like an off-the-shoulder cardigan, button down shirt or maybe a lace robe to make a very nice ensemble for you. For plus size women, I highly recommend the high waisted attire and underbust waist cinchers.
If you're nervous about being too revealing.
OUTFIT IDEAS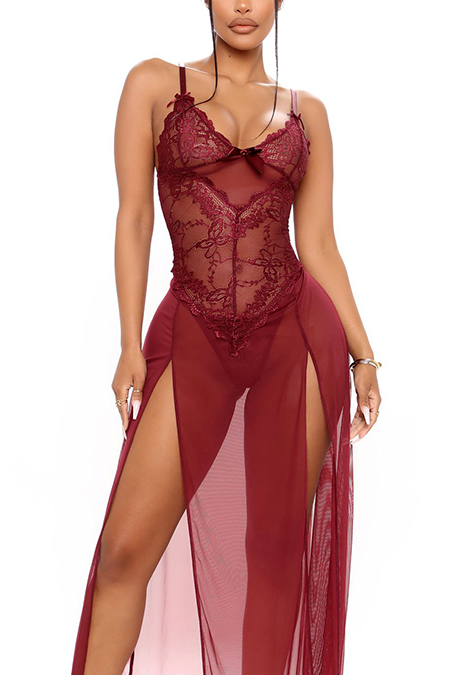 There are infinite clothing combinations that look great in boudoir images. Ultimately, you will want to explore options using your own creativity so that your images reflect your specific personality and tastes. You should visualize the clothing, sexy shoes, accessories and props you will want to bring for your shoot. As stated earlier, you can use your favorite glam magazines or browse online images to discover ways to pair colors, fabrics and styles. I will give some recommendations and ideas below to spark your creative fire…
BRAS AND UNDERWEAR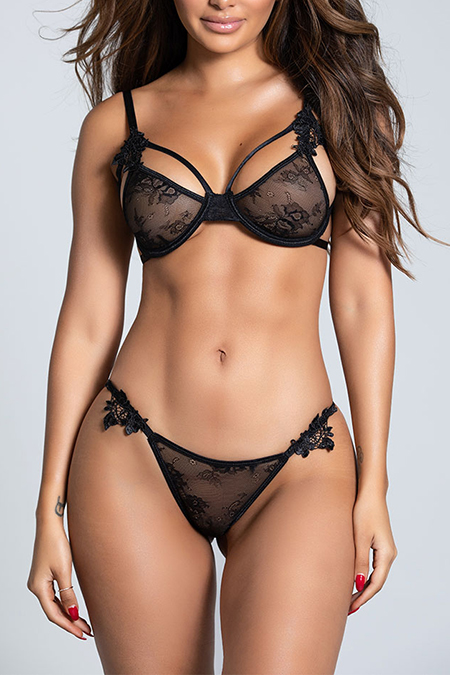 I highly recommend bringing at least one really great bra and panties set that complements your body style. Its best to use matching sets because they photograph better than using separate pieces. You can shoot in just the bra and panties or pair them with any other clothing items and/or accessories that you bring to the shoot. Basic black underwear is always a classic choice with powerful energy, but don't be afraid to try other colors as well.
High wasted undies are very sexy for most women. It doesn't matter if you have a slight tummy or washboard abs, they are an excellent choice for your photoshoot and will.
Underwear bottoms that also work well for boudoir shoots are Cheekies, Bikinis, Boy shorts, Hipsters, and Thongs. The best choice depends on your body style and your comfort level. Thongs showcase an uninterrupted view of your bum and Boy Shorts keep it almost entirely covered. Cheekies and bikinis fall in the middle. They are a bit flirtier, revealing just the right amount of "cheek peek" while giving your booty more definition and curve.
CORSETS AND BUSTIERS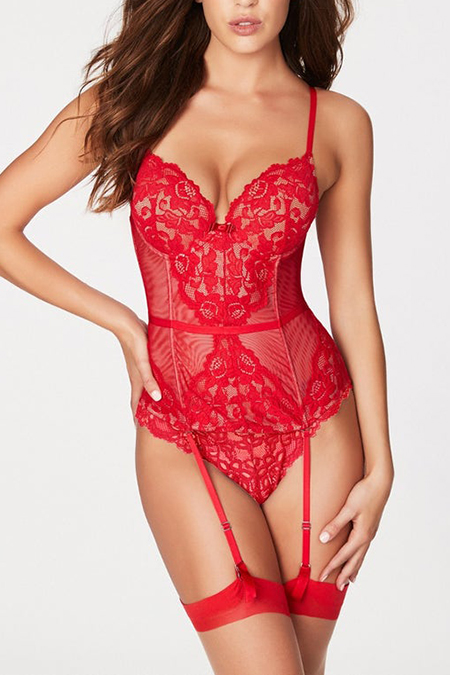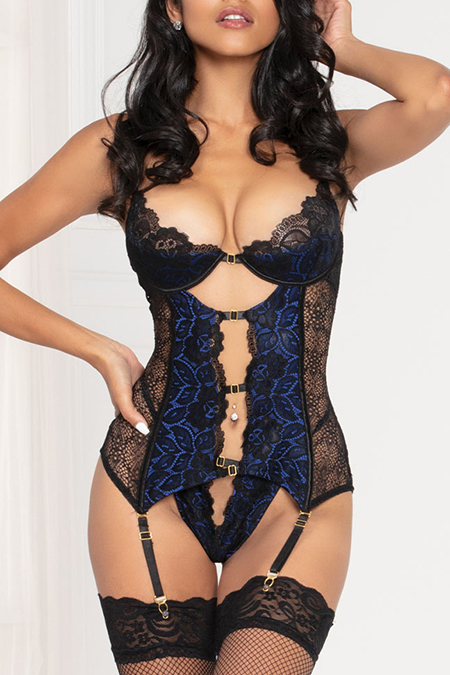 Corsets are a boudoir favorite for good reason. They accentuate all the right areas, "pulling in" the midsection and slimming your waistline while giving support. If you choose to wear a corset for your boudoir photo shoot, there are tons of pairing options.
Bustiers are a great way to create the same curves as the corset and enhance your cleavage also. Think of them as a fancy bra + shapewear combo. If your cup size is smaller than a "C", consider using a bustier with padded cups for a fuller looking breast area. It's a great idea to complete your sexy Corset or Bustier ensemble in some sheer thigh-high stockings with a "stay-up" silicone lace top, some panties, and a garter belt. Super Sexy!
ROBES, NIGHTGOWNS, AND BATHING SUIT COVER-UPS
Lace Kimono Robes, Silk Night Gowns, See-Thru Robes, Kimonos, and Bathing Suit Cover ups are lots of fun to play with when it comes to poses and flirty images. They also help with cover-up, especially if you are a little shy at the beginning of your boudoir session. Using these sexy items in water boudoir shoots is awesome as well and makes for amazing portraits!
CASUAL ATTIRE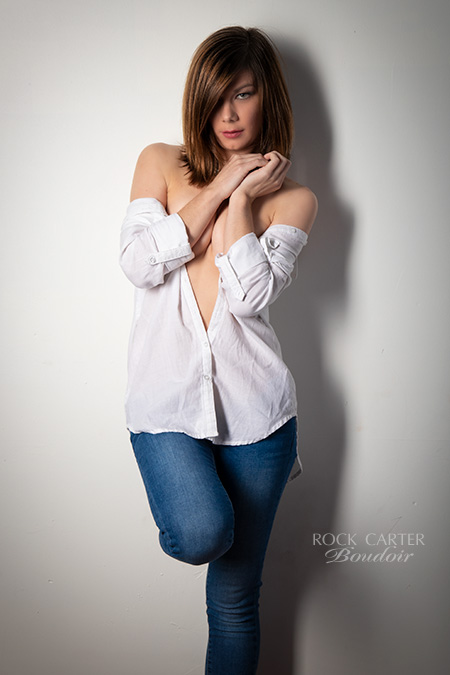 It is a misconception that you need only lingerie for boudoir. There are many other options to explore for creative, sexy images. Everyday clothing such as a simple white button down with nothing beneath it, jeans, or even comfy knee-high socks can be super cute in boudoir images if photographed the right way.
Find yourself a see-through or lace top, a soft cozy sweater you can pull off your shoulders, a vest, crop top, or maybe a comfy sleeveless sweater and pair them with some cute bottoms or jeans to create a sexy ensemble.
See-through tops are very nice to use for photoshoots also as they are only semi-revealing. With lights and/or sunshine hitting them the right way, they show beautiful curves and allow very artistic creations with the body.
LEGS, LEGS, LEGS!
Consider fishnets, knee highs, or cute thigh highs for your photo session. You can also bring other items such as knee high (or thigh high) socks, booties, ankle socks, leg/ankle jewelry, or even knee high boots to accentuate your legs in your images. A nice pair of black heels look great in boudoir images.
OTHER LINGERIE ITEMS TO CONSIDER
Bodysuits, Body Stockings, Teddies, Vintage Slips, and Camisoles are all great choices for your boudoir session as well.
ACCESSORIZE !!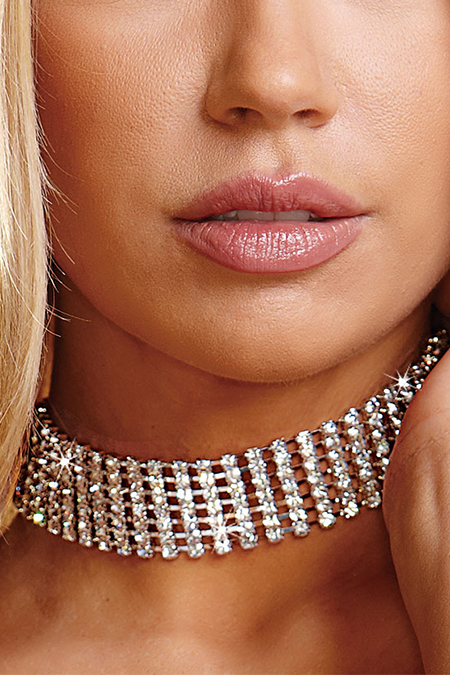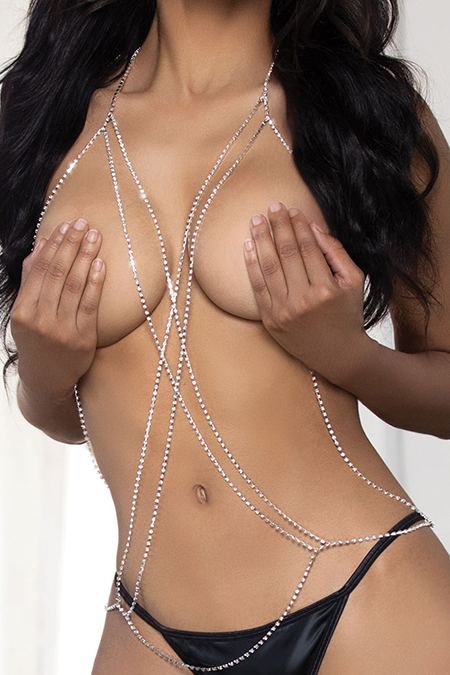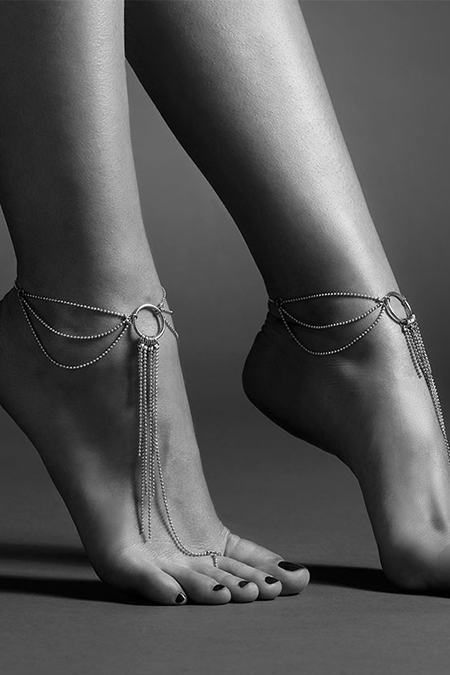 You should load up on accessories like pearls, earrings that dangle, bracelets, long necklaces, chokers, costume jewelry, body jewelry, scarves, and hats, glasses, etc. You can easily add to (and modify) the look of your outfits by changing your accessories.
Budget Picks For Shopping:
Yandy / Frederick's of Hollywood / Amazon / Adore Me / Shein / H&M
Great Sites For Plus Size Women:
Torrid / Harlow & Fox / Hips & Curves / Burgundy Fox / Simplybe